Welcome to the ConnectWise View Bug Report Forum
If you do not have an account, click "Sign in/ Sign up" to get started.
Refresher:
ConnectWise View gives a knowledgeable expert the ability to connect to a field tech's or customer's mobile device camera. Ultimately, these "experts" will be able to see what's going on and assist the technician/customer without having to travel offsite.
Below are a few tips and rules for those who wish to participate, please read through them.
Tips
Search for an existing bug report before adding your own. This helps us prevent duplicate entries and improve bug tracking.
If you find a matching bug report, give it a thumbs up and throw in a comment with more details about the problem.
If you can't find a request for an item you need, create your own bug report.
Provide as many details as you can, especially:

Platform (iOS, Android, etc.)
Connection (WiFi or Mobile Data)
Mobile device OS, model, etc.
Browser(s) used
Rules
No spam, advertising, or self-promotion.
No offensive posts, links, or images.
Only one request per post.
Administrators have the ability to moderate the forums, including editing, deleting, and moving posts. Posts may be deleted for any reason, with or without notification.
Thank you for sharing your thoughts with us!
Hello,
I can launch ConnectWise View from my browser (option is available), however other users inside of my ConnectWise Console cannot (No Option Available). What permission level does a user need to create a View Session? It would be nice to have a toggle box for this permission so it can be assigned to non-technical user accounts that just need this feature.

Using Chrome on desktop, and Safari on iOS, the session remains in a negotiating connection state.
IPhone 7s, using 11.4.1

I'm a laptop user, and often use a second monitor. Control launches onto the second monitor fine. When I unplug my second monitor, and just use laptop screen, some sessions launch beyond the display size of my laptop, ie where a second screen would be, and you cannot get to the window to move back onto the single laptop screen.
Controlling through iOS, the screen breaks up and I have to log off and log back in for it to refresh.
on android 9.1 huawei p30 pro connectwize 19.3 or 19.2 no possible to working the mouse refresh no good and screen garbage refresh problem i try send video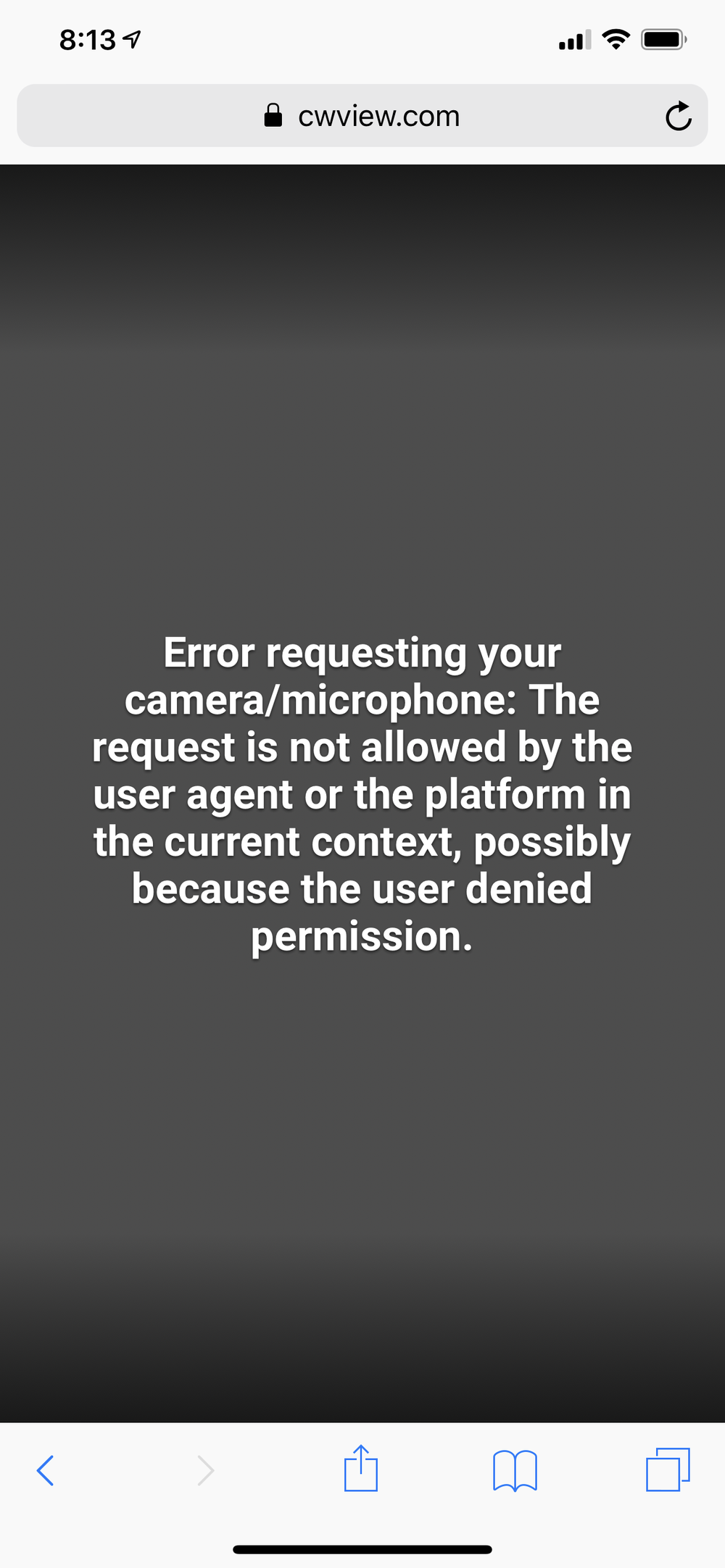 This is the page I see when trying to open the link. It has happened on two seperate devices.
It works in android.
The ClickOnce Application is showing as an Unknown Publisher.
Since I upgraded to 19 the desktop Client which was working great and the SOS tool have both stopped working.
Both were great for adding to users desktops rather than relying on the web browser.
When create new session, trying to send invite via email tab on the host not going anywhere.
We've been using cwview for a while and about a week ago the launch view button that we use to create a session went missing.