Welcome to the ConnectWise View Bug Report Forum
If you do not have an account, click "Sign in/ Sign up" to get started.
Refresher:
ConnectWise View gives a knowledgeable expert the ability to connect to a field tech's or customer's mobile device camera. Ultimately, these "experts" will be able to see what's going on and assist the technician/customer without having to travel offsite.
Below are a few tips and rules for those who wish to participate, please read through them.
Tips
Search for an existing bug report before adding your own. This helps us prevent duplicate entries and improve bug tracking.
If you find a matching bug report, give it a thumbs up and throw in a comment with more details about the problem.
If you can't find a request for an item you need, create your own bug report.
Provide as many details as you can, especially:

Platform (iOS, Android, etc.)
Connection (WiFi or Mobile Data)
Mobile device OS, model, etc.
Browser(s) used
Rules
No spam, advertising, or self-promotion.
No offensive posts, links, or images.
Only one request per post.
Administrators have the ability to moderate the forums, including editing, deleting, and moving posts. Posts may be deleted for any reason, with or without notification.
Thank you for sharing your thoughts with us!

Connectwise view until a few days ago had a feature to text the URL to the client. Now it only gives option to email and copy URL


When I try setting up ConnectWise Control View, it does not work on S20s. I get an error message "Error requesting your camera/microphone: Could not Start video source". I get the same error message on chrome, edge and samsung internet.I have in each app allowed permissions for camera and microphone but i have no luck. i tried this with multiple s20's and they have the same issue. It works on our s10's and iphones. My s20 is up to date and i have restarted my phone multiple times. I also tried wiping the cached partition. I am registering an external Bug report on this issue. So when devs create the internal issue, support can have them link it.

Hello,
I can launch ConnectWise View from my browser (option is available), however other users inside of my ConnectWise Console cannot (No Option Available). What permission level does a user need to create a View Session? It would be nice to have a toggle box for this permission so it can be assigned to non-technical user accounts that just need this feature.

I'm assuming you are using ConnectView with Automate? If this is the case, this issue has been fixed with the launch of the ConnectWise View integration with ConnectWise Automate.

Using Chrome on desktop, and Safari on iOS, the session remains in a negotiating connection state.
IPhone 7s, using 11.4.1


Whenver I take a snapshot, the video feed freezes both on the operator's side and the cameraperson's side.
Then, after a few moments, the operator's screen shows "negotiating connection with cameraperson".
Then, after that, "the cameraperson has left the session" even though the smartphone browser shows it's still streaming (albeit frozen).
So, ultimately, taking a snapshot terminates the feed.
Edit #1: I've done more testing and it appears that taking colorful snapshots freezes the feed, but taking bland ones does not.
By "bland" I mean something like the image I've attached at the bottom of this post.
The smartphone is an iPhone 11 on the latest iOS using Safari.
Edit #2: After more testing, it seems I can take snapshots without any hitches if I switch to low resolution.
So I should redefine the bug as: "on the default high resolution, taking all but the most bland snapshots freezes the feed".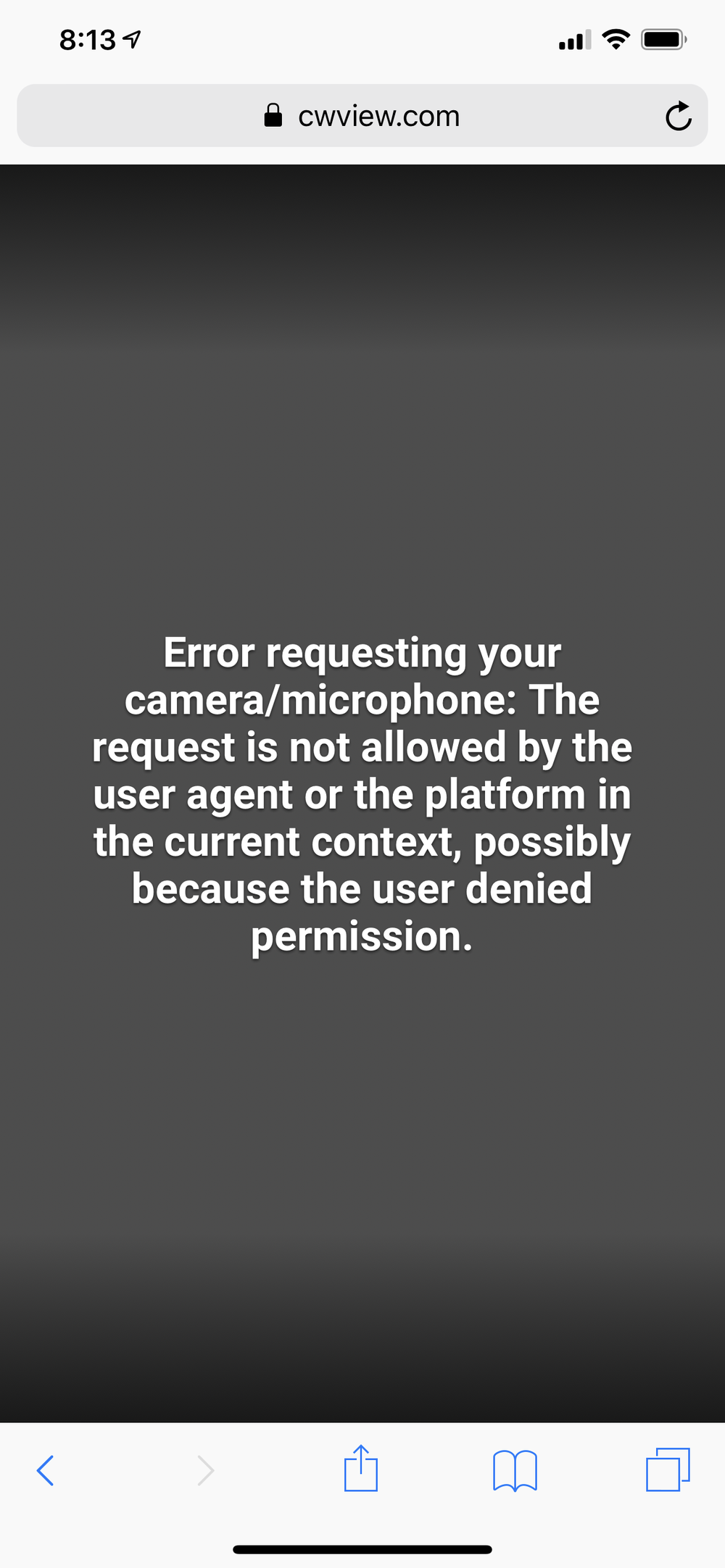 This is the page I see when trying to open the link. It has happened on two seperate devices.
It works in android.

We've been using cwview for a while and about a week ago the launch view button that we use to create a session went missing.

Tried all three applications on my phone and it will not load the page. I tried with and without Wi-Fi. The only way I could get a connection to my phone was through the email and text invitations.

Currently, when accepting a link to broadcast/stream, Android phones display the Camera feed whereas iPhone devices only display a white page with the camera/video icon in the top left. It would be nice to have the option to display the live feed on the recording apple device as well.

Tried 2 different browsers, neither showed the front camera. In the Chrome browser, switching from front to back and vice versa the video continued showing only the back camera